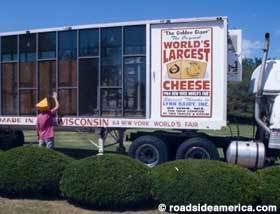 Image from RoadsideAmerica.com
The World's Largest Replica Cheese was built to honor and remember the World's Largest Real Cheese, a 17-ton Wisconsin made cheddar that was displayed at the 1964-65 New York World's Fair. The cheddar was cut up and eaten in 1965.
The replica was built and placed in the Cheesemobile, a semi tractor with a refrigerated trailer that has (had) one plexi-glass side for viewing, that the original was in. It was then moved to Neillsville, WI. The replica was there for 40 years until it was sold in 2005 to a truck collector who was only interested in the tractor and not so much the giant polystyrene hunk of cheese. Go figure. Maintenance issues and expenses on the trailer were the reasons for the sale.
I don't know exactly what this replica cheese's fate was. Perhaps it still sits somewhere mostly unharmed, perhaps it was simply trashed, or perhaps it was used for the world's largest replica fondue. We may never find out for sure, but we do know that it no longer sits on display in Neillsville after 40 glorious years.
For more information on the World's Largest Replica Cheese, click
here
,
here
, and
here
.