The Mighty Og is (or was) the upper half of a giant gorilla made out of wire and paper, at least that is my understanding. It is also my understanding that his name was originally O.G., as in "Oh gee, that's half of a big ugly gorilla." At some point his name became Og. He was originally located at Rawhide City, a tourist attraction near Mandan, ND.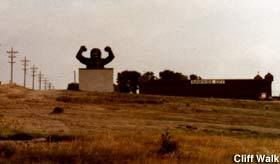 Picture of Og at Rawhide City. RoadsideAmerica
Reportedly, Og was purchased by an implement dealer in Harvey, ND when Rawhide City went bankrupt, as to keep Og in the state of North Dakota. He had planned on putting him on the roof of his building but did not because he was told it would void his roof warranty. Eventually he was given a spot along Highway 52 outside of Harvey to put The Mighty Og. There he rested, with a pole in his head that had a hornet on top of it for the Harvey Hornets, until a storm destroyed Og. From what I can tell, I'm guessing that storm was in 2005 or maybe 2004.
More pictures located here