I was all set to do a Fallen Heroes post on the Happy Chef, but decided to try to confirm whether or not the Mankato Happy Chef was gone. I went to
HappyChef.com
and emailed them. They promptly responded Monday morning with this:
"The only statue left is the one in Mankato."
I don't normally post a picture of a Minnesota "target" until we visit it and photograph it, but I will make an exception this time. If you are unfamiliar with the Happy Chef, this is what the statues look like.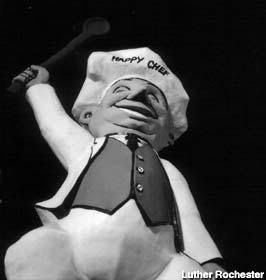 Picture from RoadsideAmerica
Happy Chef is a family-style restaurant chain founded in 1963 and based in Mankato. The chain grew to as many as 56 restaurants across 7 states. Many of them had their own Happy Chef statue. The statues stood 36 feet tall and had a button that would play a recorded message when pushed. Today there are only 16 restaurants left in Minnesota, Iowa, and South Dakota and only one statue remains.
A few Happy Chef statues managed to survive and find work elsewhere. A Happy Chef from Cedar Rapids, IA found work as a baseball umpire in Ryan, IA.
Image provided by Roadside Architecture
Another got a job as a chimney sweep in Kansas.
Picture thanks to Dorsia
There is a nice article from 2005 about Sal Frederick, the founder of Happy Chef,
here
.